Distributor Meeting
EDM 2019 is just a few short months away and we want to make sure your calendar is blocked for September 15-18.
Join us for 2½ days of workshops that will give you the information and know-how to apply Eaton product on projects you are working on now. Spend quality time with our product experts and get the answers to your important questions. You'll learn about the latest industry trends and products that will help you grow your business today and the years to come.
Join the Power & Controls, Fluid Conveyance, Filtration & Airflex Product Management teams as they deliver dynamic and informational presentations at this year's EDM. These teams will be on hand to provide a comprehensive workshop experience, with the Fluid Conveyance team set up in a "super room" that will cover all things fluid conveyance including Rubber Hose & Hydraulic Fittings, Machines, Tools, Accessories, FACTs and Thermoplastics to name a few!
After each session, there were will be time to network, see new products and prototypes, and provide valuable VOC to each of the product managers. Monday sessions will repeat on Tuesday or Wednesday morning, making it easy for you to catch other sessions of interest on the alternate days.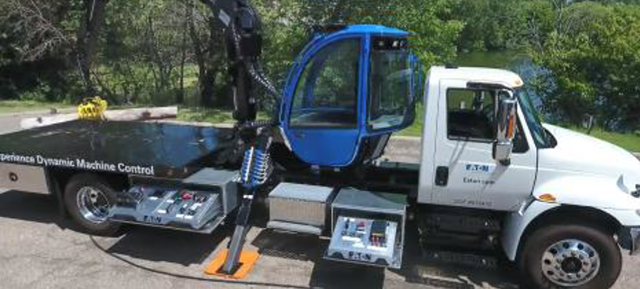 The Dynamic Machine Control Forwarder will be on-site at EDM 2019.
After spending the day attending workshops and learning about the products, we will provide you with an opportunity to build new relationships and make a personal connection in a networking environment. The Dynamic Machine Control Forwarder will be on-site to demonstrate Eaton's capability in the intelligent machine space by showing boom stability control and you'll want to allow time to visit the FC digital experience zone where you will be able to demo new and valuable online tools, such as the custom bin label creator, Marketplace, mobile crimp specs, and the container build tool.
You'll also have a chance to hear our top leaders share the latest business news from today, our vision for growth tomorrow and our strategy on how we're going to get there together. Our esteemed line-up of general session speakers will include Craig Arnold, Eaton's CEO; Heath Monesmith, who was named the Industrial Sector President & COO on June 20th; Paulo Ruiz, Hydraulics Group President since April 1st; and Jordan Vickers, Eaton Senior Economist, just to name a few.
The relationships we strengthen in Nashville will allow us to build your business' value and enhance our mutual commitment to growth. We look forward to welcoming you to Nashville this September 15-18.

When:
September 15 - 18, 2019
Register today!

Where:
Gaylord Opryland Resort & Convention Center
Nashville, Tennessee 37214

Guestroom Reservations:
Hotel reservations must be made separate from your meeting registration. Click BOOK A HOTEL ROOM to secure your guestroom at the beautiful Gaylord Opryland Resort & Convention Center.

Reservations must be received on or before Wednesday, August 14, 2019. Reservations after this date will be based on space and rate offered at time of booking.
| | | |
| --- | --- | --- |
| | | |
| Craig Arnold, Chairman and Chief Executive Officer | Heath Monesmith, President and Chief Operating Officer for the Industrial Sector | Paulo Ruiz, President, Hydraulics Group |